Hamish McBeth Dog Blankets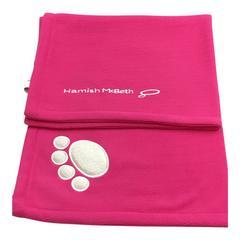 The short winter months in Australia can feel endless – especially when you don't have the adequate heating required to keep an entire apartment or house warm. The long nights are the hardest as the temperature drops and you turn the heating off in favour of a snug doona. Treat your dog to the same luxuries you afford yourself by searching for the best bedtime accessories for your fur baby. You'll need something that's warm, cosy and luxuriously soft. You want to spoil your dog with the absolute best to avoid them shivering and sniffling his way through winter. After all, isn't he your very best four-legged friend?
With a focus on timeless designs that never go out of fashion, and a luxurious, classic colour palette, Hamish McBeth's range of dog blankets are perfect for keeping your favourite pet rugged up snug-as-a-bug at bedtime. Here's why they're loved by pets and their owners alike.
THEY'RE HIGH QUALITY
Each blanket is crafted using double-thickness, extra-soft fleece. Made from durable polyester, these blankets are lightweight, but still envelop your dog with layer-upon-layer of warmth. These blankets will ensure your pet stays warm when cuddled up at night, in the back of the car or lazing about in the winter sun during the afternoon.
Easy to Clean
Because they're so light, they're easy to pop into the washing machine, so maintaining their cleanliness and appearance is quick and simple. This also means that they dry fast, so you (and your pet!) won't have to wait too long before you can use them again.
CLASSIC COLOUR SELECTION
Colours and tastes fluctuate so rapidly from season to season. What's hot right now, could be a serious fashion faux pas a month or two down the track. Which is why the team at Hamish McBeth decided to focus on an exclusive, classic colour palette for their dog blankets. By sticking to timeless shades of blue, brown, pink, and tartan stripes, you'll always be able to match your dog's attire and accessories with current styles and tastes.
Each blanket also features a white applique paw pad on a corner as our signature touch.
For all these reasons Bupa Pet Insurance recently featured Hamish McBeth and our snuggly blankets in their article, 'Spoil Your Dog or Cat with a Luxury Pet Bed​'.
Read the article for more great ideas on ways to spoil you pet with a cosy bed this winter, or drop by our store to stock up on the latest pooch styles.
Related Tag: Dog Blanket for Car
Puppy Blankets 
---
Leave a comment
Comments will be approved before showing up.